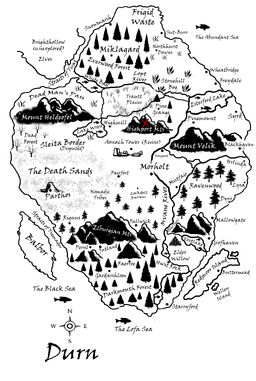 The Highport Mountains are located east of
Mount Velik
, on the other side of the
Orvasse River
. It's official color is yellow, as mentioned in the fourth book: "As he approached the gate,
Tallin
saw two mismatched staves, wrapped with a colored ribbon. On each stave flew a tattered yellow pennant, the Vardmiters' attempt at an official flag."
After the dwarven civil war, Utan and his faction left Mount Velik and permanently settled in the Highport Mountains. After Orcs occupied Mount Velik, the rest of the dwarves also went to seek refuge there.
Community content is available under
CC-BY-SA
unless otherwise noted.